BallotBoxing
The All-American Bloodsport

Rough & Tumble — No Holds Barred




Barbwire Confidential: Hush-Hush!
Subscribe to the New Barbwire Insider News Service
Get ahead of corporate-influenced news–>
All the news you never knew you needed to know 'til now
On 11-24-1874, barbed wire was patented. Stick with the barb.
Barbano on statewide Nevada Newsmakers TV

Presidential candidate John Edwards in Reno Dec. 29
Columnist Erin Neff: Corruption was the big 2006 Nevada political story
Columnist Erin Neff: Nevada's initiative mess
Great minds think alike:
Legislature was the big election loser
Public had to decide on matters legislature refused to act on
Reno Gazette-Journal editorial 12-6-2006
Former Sen. Joe Neal: We have outsourced our elections
Columnist Erin Neff: It's clear that Gibbons doesn't know what to do now that he has won the governorship
Nevada lawmaker wants study of immigrant economic impact
Recent Texas research showed huge benefit
Las Vegas Sun 12-27-2006
Making LV City Council full time has many supporters but no champion
Your vote is your voice.
Su voto es su voz
So vote!
Columnist JANE ANN MORRISON: Backers of pro-smoking Question 4 find too late that honesty really is the best policy
Editor's Note: Many of the news links on this site are from Nevada dailies. In late 2006, the Reno Gannett-Journal began nuking much of its archive. If you encounter any broken links, I encourage you to contact them and send me a copy. On the one hand, they want to build their web traffic in order to increase the price of ads. On the other hand, they are killing that very traffic. Far be it from me to reconcile the Dilbert-style motivations of an outfit for which a 38 percent net profit is not enough. If you can explain it, please enlighten me. — AB

In LV, those who crossed labor were losers
NevadaLabor.com statewide political clips
Click here for statewide election results
Update: Tuesday, Nov. 7, 2006, 12:41 p.m. PST — The Mahatma sez to bring a broom and camera to your polling place and he'll make you famous. Go to MichaelMoore.com. Be well. Raise hell.

Barbwire Confidential: Hush-Hush!
Subscribe to the New Barbwire Insider News Service
Get ahead of corporate-influenced news–>
All the news you never knew you needed to know 'til now
Barbano on statewide Nevada Newsmakers TV

BARBWIRE: The wages of Raggio — Payback time
Will the majority leader be able to save his underlings one more time?
Special web edition 11-6-2006
BARBWIRE: Enough, already
Sen. Maurice Washington's outright lying to the Sparks Tribune is the extremely ultimatest, worst best damnedest very-dead-last freakin' straw!
SPARKS TRIBUNE 11-5-2006
SHORT AND NOT SO SWEET
All the reasons you'll ever need to vote for John Emerson over madcap Sen. Maurice Washington — including Washington's attempt to mandate intelligent design theocracy in Nevada schools
Reno News & Review 10-26-2006
If you would care to donate to the independent campaign against Mr. Washington, please contact the webmaster.
NEW
4th NRA bulletin to citizens of Nevada Senate District 2

Sparks senator's campaign tries to intimidate media
The truth keeps anti-Washington television spots on the air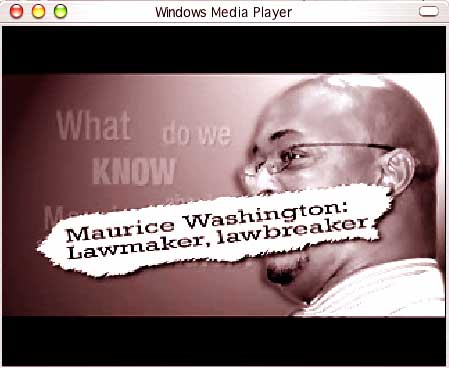 View the spot for yourself by clicking above. You must have Windows Media Player, free software available at Microsoft.com. A recently upgraded web browser is also necessary.
SPARKS (10-30-2006) — Claiming that opposition advertising is untrue, State Sen. Maurice Washington, R-Sparks, last week demanded that both KOLO TV-8 and Charter Media stop their broadcasts.

"Our spot merely presents the public record to the voters, stating specifically that 'while running his failed charter school, Rev. Washington illegally transferred thousands of taxpayer dollars to a bank account he controlled personally'," said lifelong Sparks resident Richard "Skip" Daly.

John Moore, an operative working for Sen. Washington's campaign, contacted both Channel 8 and Charter Media asserting that the advertising placed by the Nevada Republic Alliance is untrue.

"I can understand why Maurice Washington would want to hide the true record of his corruption while in office," Daly said.

"However, this type of censorship and discrimination by his campaign will not withstand scrutiny. It was a simple matter to provide ample documentation to substantiate the claims made in the advertisement, as these matters are well known and on the public record," Daly added.

"The mere fact that KOLO and Charter Media have not removed the ad substantiates the validity of the claims made documenting Maurice Washington's corruption. I hope that shining a light on this desperate act of censorship helps to end Maurice Washington's dishonorable abuse of power.

"Mr. Washington has a long history of being a lawbreaking lawmaker, violating the laws he has been sent to Carson City to form. We didn't have time in 30 seconds to note all of the charges brought against Sen. Washington during his 12-year tenure," Daly said.

"He misused taxpayer funds to help finance his church and twice pleaded no contest to breaking the state workmens' comp law requiring employers to insure their workers for on-the-job injury."

"It is ironic that Washington's campaign accuses us of dishonest advertising when he himself is airing commercials using Washoe County District Attorney Dick Gammick claiming that this lawbreaking lawmaker is tough on crime," Daly said.

"This is just one example of why we support Washington's opponent John Emerson, whose ethics are beyond question," Daly said.

Gammick refused to pursue felony charges against Washington in 2002 after receiving substantial evidence that criminal fraud had been committed.

"It appears that the good old boy system is once again working overtime to prop up a public official who breaks the law with impunity because he knows he operates above the criminal justice system," Daly said.

"No wonder he tried to intimidate local TV stations from accepting advertising which tells the truth. He's got a scary amount of power behind him," Daly noted.

The spot and extensive documentation have been posted at http://www.BallotBoxing.US.


"Nevada Leadership Academy should adopt policies that prevent fiscal mismanagement, conflicts of interest and other management shortcomings, a new state audit recommends.

"Nevada Department of Education's audit of the Sparks charter school reached many of the same conclusions as an audit conducted by the Washoe County School District's Charter School Advisory Committee….

"The audit says academy officials had been depositing grant money into an account accessible only to Washington…."

AN EXCERPT FROM
Washington seeks third term amid accusations
By Susan Voyles
RENO GAZETTE-JOURNAL
Posted: 8/19/2002 11:34 pm
Modified: 8/21/2002 04:49 pm
"The school district and state reports single out Washington for 'the misuse of public charter school funds for the purpose of obtaining a loan for the benefit of a religious organization. It was also used to obtain a loan from Wells Fargo Bank under false pretenses.'

"Washington wrote the state's legislation in 1997 that created charter schools and served on a committee that led to the formation of the Nevada Leadership Academy in 2000.

"Charter schools are public schools funded with public money. They are freer to use innovative teaching methods but are still bound by the majority of financial and governance standards as are all public schools under state law….

"Washoe County District Attorney Richard Gammick said his office doesn't initiate complaints. But he said he called Wells Fargo Bank and was told by the bank that it has no interest in pursuing any potential fraud.

"Gammick said any allegation of a conflict of interest would go before the Nevada Ethics Commission. Ethics director Stacy Jennings said she could neither conform nor deny that her office has received a complaint. A violation of the state's conflict of interest law is a misdemeanor."
"State Sen. Maurice Washington has been charged with failing to provide industrial insurance coverage to workers at the charter school he helped create and run in Sparks.

"Senior Deputy Attorney General Greg Zunino filed the criminal complaint in Sparks Justice Court on Friday....

"An affidavit filed with the criminal complaint says Washington engaged in a questionable practice of shuffling money from the school to the church. No allegations of criminal activity have been made involving the money transfers.

"The audit conducted by the state Department of Education goes farther, saying grant money belonging to the school was transferred to another account which only Washington had access to, not the school. It said Washington moved $150,000 from the school's bank account to the church account to help close the mortgage for its new building and property. And it said the school's lease was designed so that the school covered almost all the cost of the mortgage as well as paying utilities and liability insurance for both itself and the church."

---

State attorney general's office files complaint
Sparks Tribune/Associated Press 6-6-2002

Washington ordered bookkeeper not to pay taxpayer-funded school's bills
Reno Gazette-Journal 7-16-2002

Sen. Washington supports theocracy
BARBWIRE, Sparks Tribune 10-25-1998

Watching examples of integrity in action
by Rev. Ron Rentner
Daily Sparks Tribune, 11-8-2002
This site battle born on Nevada Day, 31 October 2003.
Page designed and maintained by Deciding Factors

Click here to get on the best political e-mail list in these parts

Site content copyright © 1988-2015, Andrew Barbano