Nevada election contest filed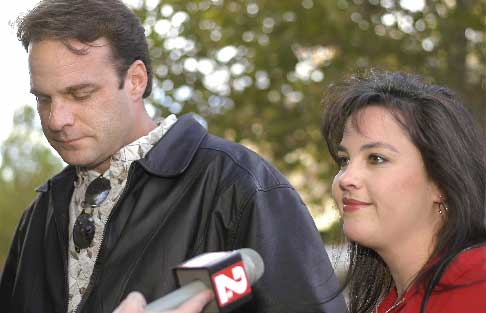 FIGHTING FOR THEIR RIGHT TO VOTE —After being told they were not registered and could not vote, Eric and Traci Amberson successfully challenged the county registrar of voters and were permitted to cast their ballots at a polling place in Sparks.They were allowed to cast full ballots including every race, not just provisional federal votes. (PHOTO: Copyright © 2004 Debra Reid, The Daily Sparks Tribune, used by permission.)

ELECTION CONTEST FILED
IN WASHOE DISTRICT COURT
Followup on the story broken exclusively
via BallotBoxing.US e-bulletin on Nov. 16.
FOR IMMEDIATE RELEASE
FOR MORE INFORMATION CONTACT
RICK DAVIS (775) 267-4416
DONALD YORK EVANS (775) 348-7400
ANDREW BARBANO (775) 786-1455

RENO (November 17, 2004, 4:39 p.m . PST) – A longtime Nevada resident has filed a petition contesting the state's general election. Rick Davis, 56, a 32-year Nevada resident, brought the case in proper person in Washoe District Court in Reno on Tuesday, the deadline for filing under Nevada law.

"This is not a personal thing," Davis said.

"I'm doing this as a conscientious effort to explore the possibility of misconduct in the this election and possibly make a difference in the future," Davis added. He is a resident of Minden in Douglas County, Nevada, in the Carson Valley below Lake Tahoe.

EXCLUSIVE UPDATE (11-23-2004, 3:32 p.m. PST) — Judge Peter Breen has scheduled a hearing on this case for 10:00 a.m., Monday, Nov. 29, in Dept. 7 at the Washoe County Courthouse. Attorney Don Evans will remain involved but has a major upcoming trial. Lawyers Martin Crowley and Jeffrey Dickerson will now take the lead in this action.
See news updates, below.
Anyone who feels his or her right to vote was in any way impaired should immediately call Mr. Crowley at (775) 337-VOTE [337-8683] or e-mail him at votenevada2004@gmail.com
Anyone wishing to help with the court costs of the case may send a check payable to
Trust Account of Martin Crowley
237 S. Sierra Street
Reno NV 89501
Davis asks that disenfranchised voters be permitted to cast belated ballots and that vote counting software be made available for review.

Davis brought the case against the five Republican presidential electors after numerous reports of Nevadans being denied their right to vote.

Attorney Donald York Evans of Reno has told Davis that he will file a notice to become counsel of record in the case. Evans has offered his services at no charge.

The legal action, case number CV 0402764, has been assigned to Judge Brent Adams in Dept. 6. Earlier this month, Adams ordered that a Sparks couple, Eric and Traci Amberson, and others who filled out voter registration forms be allowed to vote.
Complaints were brought forward from many parts of Nevada prior to the election in which people who filled out the proper forms were not listed on voter registration rolls.

Adams ruled that any Washoe County citizen who could present a numbered voter registration form would be allowed to vote. Because of delaying tactics by opponents, Washoe voter registrar Dan Burk's office was not notified of Adams' order until 6:20 p.m. on Nov. 2, just 40 minutes before the polls closed.
Davis' court filing is available in its entirety at ballotboxing.us,

-30-